PAMELA ANDERSON JUST FOR YOU!!!
Please sign Pamela Anderson's Guestbook.
Please tell Pamela what you think of this site and what you would like to see here . . .
(Hey - nothing naughty please!)
Come and see what others say to Pamela . . .

HOT NEWS 1998 Pamela Anderson Calendar available from here!
Did you ever fantasize of Baywatch 's
Pamela Anderson . . .
on your bed did you!?!
Well Kmart have found the answer to your dreams . . . Here's gorgeous Pamela and there's plenty more photos
- if you'd like to scroll down . . .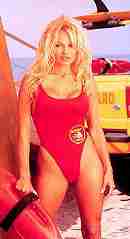 Startoy has sourced a winner this year and for $20 plus P&P you can buy better than a poster of the gorgeously seductive swimsuited Pam Anderson just as she appears in her Baywatch red swimming costume . . .

Here she is, ready and waiting for you to take her to the beach . . .


or to bed . . .


. . . to sleep comfortably with when camping
The reproduction of the picture quality here is not wonderful -
but the real product is LIFE SIZE and top rate . . .
To buy one for yourself or a friend who would appreciate her you can order one from Startoy in Florida and our contact in the UK
Are you tempted to buy a dozen?
Then you'll need to have some storage boxes. Box Shop specialises in stackable plastic boxes as well as boxes for supermarkets and supermarket trolleys, local authority waste collection boxes for green recycling schemes and every sort of plastic box product imaginable. Boxshop supplies small and large quanities alike. Please email us to tell us that you enjoyed this page! or flame us instead... Our Webmaster thought it was too much FUN to miss! There's more good photos below!

Scroll below for some favourite piccies of Pamela Anderson in her swimsuit . . .
If you missed the link at the top, here's the OFFICIAL BAYWATCH WEBSITE
Member of the Internet Link Exchange
Here is Pamela Lee Anderson in a Baywatch swimsuit on a Baywatch poster


Pam Anderson's Baywatch swimsuit looks better than a bikini . . .
(Who'll flame us for saying that!)


Pamela can look wistful too!


But Pamela Anderson is always happy just for you . . .


Here's even a life size stand up model of Pam Anderson! But you can't put her away in a box!
If you don't like taking Pamela to beaches like this


then click here to find a less crowded one in the UK
Hey! Why bay-watch the box when you can buy a box :-) instead!

Come bring Pamela and her film crew please for a shoot in England's Stately Homes!

Want a stately place to stay built the President's architect Latrobe to impress Pamela when you come to the UK? Soak up the architectural space at Hammerwood in England which the Clinton family enjoys in Washington

Or come bring Pamela to stay in an English castle

Sex wasn't the original sin - it was the act of Hephaestus

Does Pamela make you feel volcanic? Then here's somewhere volcanic to take her . . .
If you find a site which you would like to be linked to from here, please email me. Any sites linked to must, please,
1. Be willing to return the URL, and
2. Contain no photographs nor links to sites with photographs in which Pamela or any other of the Baywatch team are undressed - i.e., dressed in less than a swimsuit.
We hope you have enjoyed the fun of our webmaster's madness. More links will be added. If you would like to be notified when the page is updated, please fill in your email address and click on the button below.
Please sign the Pamela Anderson Guestbook.
Please tell Pamela what you think of this site and what you would like to see here . . .
(Hey - nothing naughty please!)
Come and see what others say to Pamela . . .