MUSICAL TOURS
Entertaining demonstration/recitals are given on the collection whenever the house is open. These are normally given by Richard Burnett and often feature visiting musicians.
Open days:
Sundays 7 April (Easter) to 29 September, 2.00 - 6.00pm
Bank Holiday Mondays, 2.00 - 6.00pm
Wednesdays to Sundays in August, 2.00 - 6.00pm

Charges: (inclusive of house, garden and music)


Adults £5.00, Students £3.80, Children £3.50,
Family Ticket (with children) £12.00,
Season Ticket (non transferable) £12.50,
Garden Only £1.50

By appointment: Tel 01580 211702 Fax 01580 211007

e-mail enquiries for Finchcocks.
Be sure to give return fax telephone or snail-mail details.
Group visits: most days, April to October. Morning, afternoon and evening. Individuals can join groups by arrangement.



Catering: light refreshments to formal dinners; special catering for weddings and other functions; fully licensed. Picnics are allowed in the grounds.


School and student visits: these can be arranged with opportunity to play the instruments.

Charges: separate leaflets with prices and menus available for private groups.

How to find us:
Off the A262, 2 miles west of Goudhurst,
10 miles from Tunbridge Wells
45 miles from London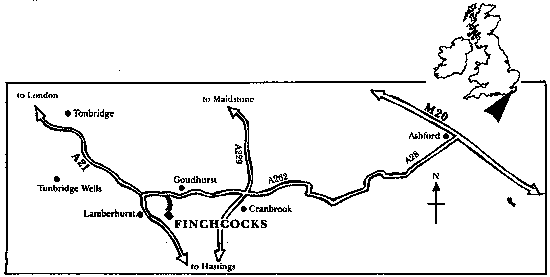 Click here to return to the Finchcocks homepage
Click here for the Finchcocks Festival
Click here for a brief introduction to the musical instruments
Click here to return to the other houses to visit in South East England
Click here to stay nearby at Hammerwood Park
Click here to return to the Hammerwood Heritage Resource