Scottish Bed and breakfast at a farmhouse in Scotland.

Anne's Scotland Bed and Breakfast Directory
Click here for links to all U.K. travel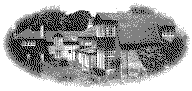 Scottish Bed and Breakfast at Skirling House
Skirling by Biggar
Scotland U.K.
ML12 6HD
Tel +44(0)1899 860274 Fax +44(0)1899 860255


Netscape e-mail enquiries for Skirling House and Internet Explorer e-mail enquiries for Skirling House.
Be sure to give return fax telephone or snail-mail details.
Skirling House in the romantic borders of Scotland was specially built in 1908 for Lord Gibson Carmichael, art collector, Governor of Bengal and friend of author John Buchan. Bob and Isobel Hunter have equipped the house with all the facilities you could want for a wonderful time in the country, while retaining many of the original unique and whimsical features including wrought ironwork by Thomas Hadden and the Drawing Room's 16th Century Florentine hand carved ceiling. It is conveniently located for visiting both Glasgow and Edinburgh.
PLEASE CLICK HERE FOR THE NEW SKIRLING HOUSE B&B SITE WITH MUCH BETTER DETAILS AND PHOTOGRAPHS
Accomodation comprises three ensuite bedrooms, one conveniently situated on the ground floor, each with colour TV, direct dial phone and coffee and tea making facilities. The set dinner menu changes nightly and makes use of the plentiful fresh local produce including game, farm cheeses, soft fruit and fish. Skirling House is a member of the Taste of Scotland scheme. A handpicked wine list offers an interesting selection at a range of prices.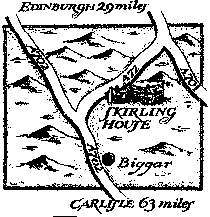 Skirling's convenient location made its green the site of medieval horse fairs and it is still ideally located for trips to the cities of Edinburgh and Glasgow, and to Dumfries & Galloway. Closer to hand are the Borders Region and The Clyde Valley. In the Borders there are castles, abbeys, stately homes and museums to visit, close at hand in the Clyde Valley Robert Owen's New Lanark, nominated as a world heritage site.

Illustration to come here

If your preferences run to shopping the area is rich in crafts and artists and of course the Borders is a region famed for its knitwear and tweeds for sale in mills and shops. For the more energetic there is golf, riding, cycling and miles of beautiful walks. And of course The River Tweed and its many tributaries provide some of the best fishing in Scotland.

Twin bedded or double room £XX per person per night
including fulL breakfast
Dinner, Four Course Meal with coffee £15





Click here if you plan to go South West towards Wales
Click here if you plan to go South to Heathrow Airport or on the way to the South East
Click here if you plan to go back to Gatwick Airport and the South East





Skirling House in Scotland offers convenient B&B accommodation facilities and is ideal for trips to the cities of Edinburgh and Glasgow, and to Dumfries & Galloway. Closer to hand are the Borders Region and The Clyde Valley. Skirling House in Scotland offers convenient B&B accommodation facilities and is ideal for trips to the cities of Edinburgh and Glasgow, and to Dumfries & Galloway. Closer to hand are the Borders Region and The Clyde Valley. In the Borders there are castles, abbeys, stately homes and museums to visit, close at hand in the Clyde Valley Robert Owen's New Lanark, nominated as a world heritage site. In the Borders there are castles, abbeys, stately homes and museums to visit, close at hand in the Clyde Valley Robert Owen's New Lanark, nominated as a world heritage site.
webmaster