Tours by Car (up to 4 persons).
Tours by Luxury Mini-Bus (5-8 persons).
Price includes Dinner, Bed and Breakfast, all Mid-day Meals and Drinks, Champagne Lunch, and all entrance fees.&127;
Superior accommodation in Castles, Manors, Tudor Thatched Cottages, Victorian Rectories, Georgian Coaching Inns and Private Period Homes.
We operate up-market vehicles which include Volvos, Mercedes, BMW's and Luxury Mini- Buses.
Hotel, Airport or UK address collection and return.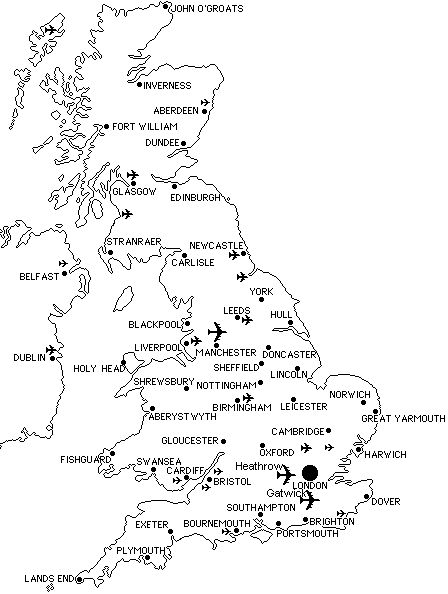 The Tours

1 The American Connection
2 The Charles Dickens Tour
3 The Izaak Walton Tour
4 Ghosts, Witches and Legends
5 Royalty and Religion
6 Smugglers and Sea Dogs
7 Crimes, Curiosities and Eccentrics
8 The Classics Tour
9 The Romantics Tour
I0 Historic Houses, Castles and Gardens
11 Castles, Manors, Pubs and Mediaeval Banquet
12 Grand Tour of Wales
13 Grand Tour of Scotland
WE HAVE A NEW FOR EITHER A WEEK OR A DAY TOUR, VISITING EVERYWHERE OF INTEREST TO JANE AUSTEN LOVERS


H Thomas Hardy Tour
14 Britain's Industrial Heritage
15 Steam Train Tour

The American Connection 1

This fascinating tour visits locations associated with George Washington, Benjamin Franklin, The Pilgrim Fathers, Neil Armstrong, Pocahontas, Abraham Lincoln, William Penn, John Harvard, John Wesley, Henry James, Frances Hodgson Burne , Latrobe (the architect of the White House), Jamestown, Virginia, The American War of Independence and U.S. Army and Air Force servicemen who were stationed in England during World War II.

The Charles Dickens Tour 2

Come with us in search of the locations associated with his life and the characters he so immortalised in his novels. We visit his birthplace in Portsmouth; Rochester where he spent his early and later years; Chatham Historic Dockyard and Bleak House at Broadstairs. Itinerary options include a 'Dickens London' walk guided by Jean, a member of the Dickens Fellowship, a visit to his London home at 48 Doughty Street, The Old Curiosity Shop, and Westminster Abbey where Dickens is buried. Finally, we take a champagne lunch in the original Leather Bottle Inn which Dickens himself often visited and wrote about in his Pickwick Papers.

The lzaak Walton Tour 3

lzaak Walton, the author of The Compleat Angler or The Contemplative Man's Recreation was born in Stafford in 1593 and to celebrate the 400th anniversary of his birth, Unique British Tours visits many locations associated with his long life. Suchttplaces include his co age and museum at Shallowford; Stafford, Worcester, Marlow, Ilam, Haddon Hall, Chatsworth and Winchester where he died and is buried in its magnificent cathedral. Included in this tour is a 3 day stay at the delightful Izaak Walton Hotel in beautiful Dovedale where Tony Bridge , a leading authority on Izaak Walton, gives a series of talks and practical instruction on fly-fishing in the nearby River Dove where Izaak Walton and his great friend Charles Co on of Beresford Hall often fished.

Ghosts, Witches and Legends 4

We visit England's most haunted village in Kent, a Tudor mansion that boasts fourteen ghosts and hear devilish tales of ghosts and strange happenings in ancient, half-timbered inns. We visit Stonehenge and Avebury, Stourhead and The Slaughters, Glastonbury, Wells and The Cotswolds. We meet The Cerne Abbas Giant and The Witch of Wookey Hole! Hear tell the mystical legends of Camelot, Avalon and King Arthur. Discover quaint customs and folk tales of giants and warriors long since departed, or have they?

Royalty and Religion 5

This memorable regal and spiritual tour visits locations associated with Queen Elizabeth I, Henry V, Henry VIII, Richard II, Queen Victoria, Edward VI and VII, George VI, Jamestown, Virginia, the Wesleys and Methodism, Quakers and William Penn and early Christianity and Paganism. We also visit Winchester's magnificent 11th century cathedral and among others, a peaceful village church which has a superb, rare 12th century wall-painting of the "Seven Deadly Sins"!

Smugglers and Sea-Dogs 6

This swashbuckling and salty tour goes in search of smugglers and sea-dogs to pre y fishing villages, steep cobbled streets and mediaeval inns where tales abound of daring moonlight exploits and ba les between the customs men and the 'gentlemen of the night' or 'owlers' as smugglers were more commonly called. We visit Sussex, Dorset, Devon and Cornwall, and the villages of Bucklers Hard, Lulworth Cove, Polperro and Clovelly. Search for sea dogs like Sir Francis Drake and Sir Walter Raleigh, shipwrecks, their wreckers and lighthouses shrouded in mist.

On this tour, one night's accommodation is at Hayes Barton, Devon, in a four poster bed in the very room where Sir Walter Raleigh was born in c.1552. Wat's ghost is optional!
Crimes, Curiosities and Eccentrics 7

The truly eccentric English live on in this very unusual tour which visits pyramids, obelisks, follies and strange monuments dedicated to their eternal memory. Like the tomb of "Mad Jack" Fuller who was buried si ing bolt upright, wearing top hat and tails and holding a Bottle of claret. We return to the scenes of the crimes by highwaymen and foul murderers and visit the graves and gibbets where they ended their misbego en days. On this tour we look beyond the obvious, at the unusual, the eccentric and the definitely odd and find those li le-known, amusing, strange and bizarre stories of people, buildings, events and places like the peaceful village churchyard in The New Forest where lies Sir Arthur Conan Doyle.

The Classics Tour 8

You will indulge your literary, musical, architectural and aesthetic tastes as we visit locations strongly associated with the following: Shakespeare, Sir Arthur Conan Doyle, Milton, Kipling, Keats, Shelley, Lewis Carroll, Coleridge, Dickens, A. A. Milne, Pepys, Jane Austen, Delius, Van Dyke, Gainsborough, Reynolds, Grinling Gibbons, Capability Brown, J. M. W. Turner, Gilbert White, Thomas Gray, J. K. Jerome, Henry James, Kenneth Grahame, John Galsworthy and H. G. Wells.

The Romantics Tour 9

Much research has gone into the itinerary of this scenic and historical tour to ensure clients see many of England's pre iest and unspoilt mediaeval villages and small towns. Such architectural gems we visit include Alfriston, Amberley, Biddenden, Bosham, Cranbrook, Dunsfold, Goudhurst, Kirdford, Rye, Smarden, Shere, Tenterden, Winchelsea and Wisborough Green. This charming tour includes a wealth of timber framed Cottages, country manors, village greens and ponds overlooked by peaceful mediaeval churches and ancient inns.

Historic Houses, Castles and Gardens 10

This beautiful tour includes on its itinerary Rudyard Kipling's mansion home at Batemans and Penshurst Place, birthplace of Sir Philip Sidney, courtier and favourite of Elizabeth I. We also visit many great and famous gardens like Wakehurst Place and Sheffield Park which are so typically English and so idyllic. We visit historic moated castles like Bodiam and Hever, where Henry VIII courted the ill-fated Anne Boleyn.

Castles, Manors, Pubs and Mediaeval Banquet 11

Indulge your aesthetic pleasures in locations strictly for the romantically inclined. Historic and moated castles like Leeds, Bodiam, Arundel, Hever and Chilham; great houses like Penshurst, Petworth, Uppark, Knole, Chartwell and Ightham Mote built for great Englishmen. Ancient, low-beamed inns, with antiques and inglenook fireplaces and all amidst idyllic rural surroundings. And to complement and conclude this delightful tour we partake of a mediaeval banquet in a priory, inn or castle.

Grand Tour of Wales 12

Wales rivals Scotland for its scenic splendour of brooding mountains and lakes, scenic valleys and forgo en villages where only the Welsh language is spoken and legends are told of ghosts, witches, poets and saints. Included in this spectacular and breathtaking tour are 13th century royal castles, ruined mediaeval abbeys like Tintern, superb view points, ancient manor houses, picturesque market towns, the "Italianate" village of Portmeirion, steam railways, a canal boat ride, a Welsh gold mine, Powis Castle with its magnificent gardens and art treasures and raging waterfalls. To make this memorable tour complete we hear a Welsh Male Voice Choir and you have the opportunity to speak some Welsh, if you so wish.

Grand Tour of Scotland 13

The following locations are included in this Grand Tour of Scotland's Highlands and Lochs, Robert Burns' country, Loch Lomond, Fort William, Invergarry, a Whisky Distillery, Loch Ness, the Ba lefield of Culloden, Inverness, Balmoral, Braemar, Edinburgh and Sir Walter Sco border country. There is a one-day mid-tour break at a Highland hotel where, if you so wish, you may enjoy golf, trout or salmon fishing, shooting, deer-stalking, riding, walking or just relaxing amidst spectacular scenery.

H Thomas Hardy Tour