Here's the one-stop no fancy graphics British tourist information resource for the whole of Britain and the UK. If there's a tourism site you know of that's useful which isn't listed here, please let us know with a URL and a brief description of the site and also post them on the bulletin board here. We do request URLs to be returned. Please scroll to the end of this file to view the updated bulletin board



Member of the Internet Link Exchange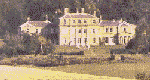 WELCOME TO HAMMERWOOD PARK
built by Latrobe, architect of the White House and Capitol
and other stately places to see and stay and the Hammerwood Comprehensive Guide
to tourism facilities in England and the UK
Please bookmark here before you go further! Please email us if this takes too long to load!
. Here's one for discovering South East England which may become one of your favourites!. Here's another for the other end of the country - less sophisticated but useful nevertheless! Here's Bronte Country and The Yorkshire Dales and the Lake District Online Here's another:



gives a resource of hotels and increasing numbers of attractions throughout the UK. We rate it top! The site is expanding and improving very fast so go there, bookmark it and keep your eyes on it! But please bookmark here before going there as some of the links below will be useful . . . .

During the next month we are planning to update this page with around 300 new addresses. Register with the form below and Netmind will notify you when we have done it. We have just put together a comprehensive guide to UK property services to help people relocating to UK.

If you'd like to be notified when this page changes, enter your address, click on the button, and you will receive an e-mail when the page is updated.



Before you go to the rest of Sussex, London or more of England in the links in the rest of this section, we hope you'll join us for a tour of Hammerwood (which many have found enjoyable) where, within striking distance of Gatwick Airport we do bed and breakfast. Don't forget to look at our other recommended Stately Homes and Historic Houses to visit in the South East, Gardens to visit and Stunning and Stately places to Stay throughout the UK. There is also a tourguide who specialises in showing you hidden England and another guide who specialises in small groups travelling together . There is also a Here's a tourguide for London Walks and South East England. Other than suggesting that you might visit Hammerwood Park, :-) and the local Wealden area we have no vested interest in the tourism links throughout this page.
WELCOME TO ENGLAND, SCOTLAND AND WALES
We hope you won't get distracted by the newspapers but if you want the news
Click Here for
THE TIMES
- THE SUNDAY TIMES and
The Daily Telegraph (with the best online search of back issues for news items)

Television:
Here's The BBC and ITN News and UK teletext


The site is a good introduction to staying in England. There's also Smooth Hound's Hotel and Guest House Directory including exclusive Internet user discounts The site links to a mapping site through which one can find a map of the surroundings of anywhere in England. You can look up by name, UK postcode or telephone number area code.

PLEASE BROWSE THE LINKS BELOW!!! However, I am unable to add new links except if they are willing to pay me to maintain the file. So please COME HERE AFTERWARDS to see the new links which are added free of charge! Please add your own links there too, if you would like to!




For the best and fastest loading weather maps and satellite pictures for the whole of Britain, click here - but ignore the weather description - it's for the Shetland Isles north of Scotland and usually infinitely worse than everywhere else. (However, at present you can't tell here what the weather will be - we're paying the price of ecological change!) Hardy souls should click here to visit the Shetlands Click here for two places to stay on the way from the airports to the islands and here for B&B en route going north. There's a RAVING GOOD NEW SITE for the Scottish Highlands with the best maps on the web. with an extensive section for Cromarty. There's over 60+ Scottish Links to help plan your trip here. Click here for more Scotland Travels site and here for events in Glasgow

For the opposite end of the country the Isle of Wight in the south is a favourite summer seaside spot The Isle of Wight Council is sponsoring events on the Island. The County Press will soon be expanding their entry to include weekly news of the Island. Click here for somewhere to stay in Hampshire on the way from the airports to the Isle of Wight and here for places to see throughout Hampshire. To the west is Torbay: details below. East of Hampshire is West Sussex - here is Chichester and district on the coast and here is a real Norman castle to stay in nearby

Click here for links to UK online Museums

The British Tourist Authority have just launched their site here Other tourist board sites in England
and yet more interesting links follow . . .

Sites run by local authorities - often non-commercially - and can be better than the Tourist Boards . . .
Devon is a favourite holiday destination in the South WestTowns & Attractions of Devon looks a nice place to venture. There's another site we've just heard about here as a a 'local' site for mid-Devon

Nearby on the South Coast here's Torbay - (that's Torquay, Paignton and Brixham) which is the UK's most popular staying resort.

Click here to find the tourism section of Birmingham City Council
Here's Wyre District not far away


Click here for Glasgow City Council in Scotland
Here's Wealden in the South East
More interesting UK links . . .

If you would like a URL to your site here please E-Mail from here: latrobe@mistral.co.uk
Go to the 3rd map here for a useful and quick loading map of the UK
The Association of British Travel Agents ABTA is here

Here's a mystery link at the Newcastle Business School and it's good!

We hope the above might be useful! We would be most grateful if you would bookmark this page and from here e-mail your opinions on how we should most usefully describe or include the sites on this page and don't forget to visit Hammerwood!

When using the Channel Tunnel don't forget you'll need to change your pounds into franks and then to marks or guilders - and each time pay a money-changer for his pranks to do it. If Member of Parliament Quentin Davies (who recently stood up for what his conscience told him to do) succeeds, European tourism upon which so much of our heritage depends will get a welcome shot in the arm. Click here for his arguments for a Common European Currency. If he was MP for my area I'd think of changing party and vote for him!
Scroll below for more!

For your convenience this is the best access to global search engines we've found - we take the MetaCrawler or Lycos option after filling the query box and pressing the button. Lycos and Altavista seem to be better than the whole of the rest put together! Yahoo gets our vote for the worst - we had about a dozen pages registered there and the entries suddenly disappeared.

Search with Starting Point:
Enter search keyword(s), press bar then choose MetaCrawler
for the best search on the net!:


Other UK guides
We hope we've got everything here - but no-one can hope to do that so: -

Click here for another page of resources donated by a friend!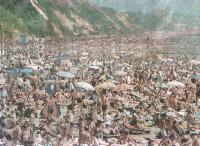 If you are thinking of going to the beach in the height of summer, here's a popular one in England! You might think of coming to visit cool historic houses and inland, or going to an unpopulated beach at Cooden near Bexhill on Sea in East Sussex. You might mailing to request a brochure - and tell them to get David Pinnegar to do them a proper website! The hotel is on the beach and it is pleasantly quiet even in the height of summer. Don't forget to GIVE YOUR FAX NUMBER OR SNAIL_MAIL details.

The Go Explore travel resource - ...where frequent travelers turn. This site includes database integration to destination information, airline reservations, hotels, rental cars, restaurants, business services, proximity searching, user profiles, and personal itineraries...

Here is a guide to England town by town with guestbook comments - goodness knows what you'll discover.
If these guides fail - you might find another at the Clearinghouse warehouse.

Marketing resource, a fund of helpful information and miscellaneous
Fax lists of UK Hotels and Travel Agents - and a good deal more!
Europe and Ireland here
Ireland, France, Italy, Germany and Portugal here so far

And now for the rest of the World!!! . . .
We are developing the Comprehensive World Tourism Guide here

For honeymoon and anniversary travel, click here for the World Wide Wedding page
Scroll further for Airlines
Here are the

NEW SITES
requested for inclusion into the Comprehensive Guide to UK Tourism.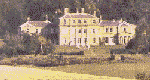 Before you go to the rest of the world or the UK, we hope you'll join us for a little longer here and take a tour of Hammerwood Park - the former home of Led Zeppelin built in 1792 by Latrobe, the architect of Washington's Capitol and White House.

For the best interactive road map of the UK try this one! The database isn't yet wonderfully complete but the mapping is good!

Hastings and the 1066 Country It has a "1066 Message Board", SE train map, local photos and a few other bits and bobs that you might like to check out.

The new link to Virtual Brighton is http://www.brighton.co.uk

This a great page with satelite image of europe's weather you might want to add

Here's Smooth Hound's B&B finding site

"Liked your page and plan to put a link to it from mine. Perhaps you could do likewise. http://www.priceapts.co.uk" Here's an accommodation facilities site. We've been established 40 years doing business by word of mouth until last year when I put pages with TravelASSIST and AccomoDATA. Response has been great. Many thanks

Here's our first site for Cornish ConneXions

A particularly nice B&B in Devon is here

Here is Macclesfield Borough Council's tourism highlights "Its main focus at the moment is tourism, although we are also planning to cover other subject areas such as business and environmental issues at a later stage."

Here's multi-lingual tourism pages for Cheshire County Council

LDS Tourism Services are also spreading the word about tourism in North Wales and Cheshire.Our award winning site contains details about:- Things to do and places to go, Tourist Information Points, Hotels and Guest Houses, Shows and Exhibitions, The LDS Border Tourism Centre, Distribution of tourist information and Links to other sites.

The Sandford-on-Thames Home Page (a pretty village near Oxford) and a Home Page for a particularly nice B&B in Devon

"Destination Images" site: We specialize in travel videos for the Independent Traveler who wishes to travel the Bristish Isles and other European destinatrions by auto. Our videos are of the highest quality and strive to show the real country outside the big cities.

Dine Online UK Restaurant Reviews

Here's a site dedicated to promoting Norfolk, England. Here's Wymondham, Norfolk, U.K. Contains information, tourist guide, and local news. Also information and links to companies, businesses and organizations in the region.

Cod moves in mysterious ways - this chap says! Here's Cumbria and the lake District

'Lakes Online' is a guide to the English Lake District. I want to make it THE site for the area and need all the help I can get!

Here's Worcester

Travel Britain Online News is an electronic newsletter for visitors to Britain.

From here, my Bo'ness & Kinneil Railway resource page can be reached. I am creating a comprehensive list of other pages dealing with this popular steam railway in the heart of Scotland, and hope to add more information about its history and what there is to do there as time goes by.

For a mystery site Click Here!

Lancaster Priory Church is a Benedictine foundation of 1094 built on a Roman site.

We are Accent Tours, offering personalised planned tours ot the UK to independent people. Here's another site by the same chap

May we have our pages linked to yours? British Tours, founded in 1958, are the originators of car and driver-guide sightseeing. We offer personal and flexible tours by car with qualified driver-guides.

What do you think of http://worldhotel.com? Is it worth including them despite this response to being asked for a return URL? "Because links are advertising, we try very much to limit our links. We prefer to develop our own pages interneally or through joint ventures that generate revenue for the venture. We do not care about techies, Internet surfers, or search engines. We have an audience we advertise directly to. We do not care about anyone else beyond that audience. Search engines list us because that makes them more complete. That makes them able to seek higher advertising revenues or other benefits."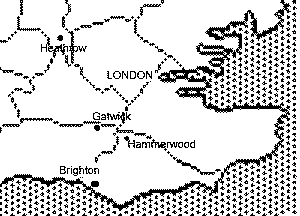 Suggestion: I am going to be stuck (as so many others are) at Heathrow for about 8 hours between planes (and of course this happens to Gatwick and Stanstead) why not put in a little section for each airport or least Gatwick since it is so close to you, as to what might be doable sightseeing by taxi or perhaps rental car rather than sitting in terminal? Any ideas? Here's Gatwick Aviation Society - Old Airliners and more about Gatwick by Vince
Aardvark's EFL Resources which is a collection of addresses, links and resources for students and teachers of English as a Foreign Language ("EFL" in the trade).

International House - International Language Centres where, they hope, English language students and teachers will find more and better course information than they will anywhere else! There are some interactive exercises (in Javascript) and a "Flags & Countries Quiz" that might appeal even to non-EFL folk!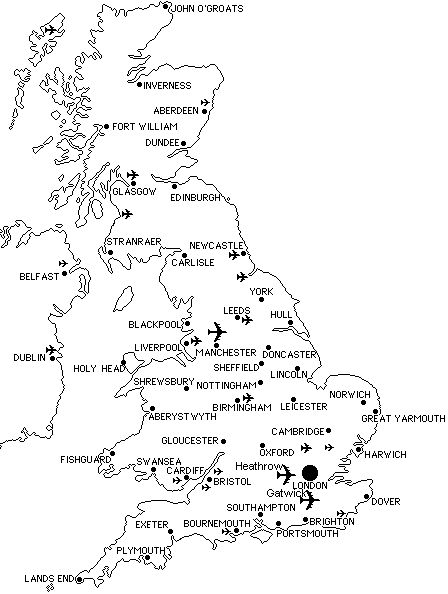 We are thinking of including this map on the main page. Useful?
If you fancy window shopping for British property you might try this
Here's the geographical searcher - so they say!

Here's USA Online who have been good enough to include us in their database
Here's WWW Yellow Pages
Here's City Net

An undercount of accesses since May 1996 + 1512 since April.
Text only viewing isn't counted!

Airlines operating in Europe
thanks to Marc-David's Airlines of the WEB - click here for more extensive range of sites. Each may contain details of special offers