Mrs. M.N., Mr E.S. & Mrs L.E. Dawes Mount Ephraim Hernhill Faversham Kent ME13 9TX
Phone: 01227 751496 Fax: 01227 750940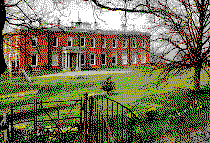 MOUNT EPHRAIM GARDENS
10 ACRES OF SUPERB GARDENS
Mount Ephraim Gardens are at the heart of an 800 acre estate comprising the house and gardens, a progressive fruit farm, woodland and grazing. The glory of the garden lies in its superb site. The house, rebuilt in 1870, but the home of the Dawes family for over 300 years, commands a truly magnificent view over woodland parks, orchards and the Swale and Thames Estuary.

e-mail enquiries for Mount Ephraim.
Be sure to give return fax telephone or snail-mail details.

Rose terraces enclosed by yew hedges, slope down to a lake with a woodland area as a backdrop. The unusual topiary garden contains a wide herbaceous border full of colour throughout the season. The water garden which was developed and planted in 1989 is a new and exciting addition. Planting throughout is intensive giving colour and interest throughout the year. The gardens have a wonderful atmosphere of peace and charm. A Japanese rock garden, ornamented with stone lanterns and based on a series of pools, follows an alternative, gently winding route. A small vineyard planted with Muller Thurgau and Reichensteiner grapes produces a good quality white wine. Many mature trees mercifully survived the 1987 hurricane and replanting has been carried on for the last 40 years.

Added attractions are an Edwardian Tea Room, Gift Shop and Orchard Walks. There is also Craft Centre open on Sundays only.
SPECIAL EVENTS
A series of special events takes place during the year and they include:-
A Sheep Farming Display Day.
A Wine Festival in May.
An outdoor Shakespeare production in June
A Jazz Festival July
An orchestral concert with The Royal Philharmonic Orchestra which includes a large Firework Display on July
Apple Sunday in September -- A day with lots of displays worked round Apples, there will also be an old Cider Press in action.
SCULPTURE TRAIL
Each year there is an exhibition of Sculptures by artists from the South of England in the garden. They are located in various points on a trail and are specially chosen to blend with that particular location. They add a great deal of interest for visitors with artistic leanings.
OPENING TIMES
Daily from mid April till end of September 1p.m. -- 6p.m.
Bank Holiday Weekends 11a.m. -- 6p.m.


Teas are served every afternoon except Tuesdays.
Lunches served on Bank Holiday Sundays and Mondays.

Mount Ephraim gardens are not specially set up for disabled visitors as steps and terraces make it difficult for wheelchairs. A ramp is available to facilitate entry into the Tea Room.

GROUP OUTINGS

Booked parties are welcome by appointment on any date throughout the season including Sundays but weekdays are preferred. This enables special catering arrangements to be made. Special Teas, Lunches, Morning Coffee or Suppers are available by arrangement. Mount Ephraim wine is available. The Craft Centre can be opened on most occasions by arrangement. There is a large Car Park with space for coaches.
HOW TO FIND US
Mount Ephraim is situated approximately one mile from the end of the M2 and is located between the villages of Boughton and Hernhill. Follow the Brown and White Tourist signs from the A2 and the A299.



Click here for another local historic house to visit and another garden to see nearby and here a place to stay

Click here for other gardens to visit in south east England

Click here for historic houses and stately homes to visit nearby

Here's stately homes to stay in for B&B throughout the country Here's the closest B&B

Visitors since May 1996