Click here for pages of the South East England Tourist Board


Other tourist board sites in England . . .
The British Tourist Authority have their site hereEast Anglia Tourist Board
West Country Tourist Board
Yorkshire & Humberside Tourist Board East Midlands Tourist Board
Northumbria Tourist Board

If you want to stay in the centre of London click here for the newly opened site of the London Tourist Board




Here's the independant Hammerwood Comprehensive Guide to UK tourist information links. It can be a good idea to look at the non-tourist board sites as not everyone belongs to the tourist boards. For the last dozen years the regional tourist boards have not been govenrment funded and many tourist facilities simply find them too expensive to belong to. High advertising expenditure and the most interesting places to visit or stay do not always equate!

You might like a South East England Tourist Board brochure: if you mail them from here please give your snail mail address



e-mail to the South East England Tourist Board to request a snail mail brochure
Be sure to give your snail-mail details.

If you want to stay in the centre of London click here for the newly opened site of the London Tourist Board


If you would like the assistance of a tour guide, tour guides like Unique British Tours or Mr and Mrs Baynes will show you all sorts of interesting places. There are, for instance many interesting churches which have become monuments of history but because they are unable to pay the tourist board, only independant tourguides promote them. Tourguides are thus in popular demand and by February of this year, this tourguide had enough bookings for the season
Br>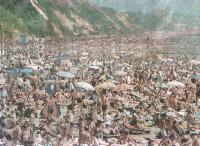 If you are thinking of going to the beach in the height of summer, here's a popular one in England! You might think of coming to visit cool historic houses and gardens inland, and stay at one of them or you might think of going to an unpopulated beach at Cooden near Bexhill on Sea in East Sussex. You might mailing to request a brochure - and tell them to get a proper website! The hotel is on the beach and it is pleasantly quiet even in the height of summer. Don't forget to GIVE YOUR FAX NUMBER OR SNAIL_MAIL details.


Be careful of the Tourist Boards' Crown rating system!


In order to advertise with the Tourist Boards in the brochures one must be inspected and crown rated. As well as interesting places to visit, many bed-and-breakfast providers and other resorts do not want the expense of the Tourist Board's Crown rating system. The Crown system awards points on technicalities and not on beauty and atmosphere. The Times newspaper reported similarly in an article last year.

Here's a non Tourist Board bed-and-breakfast which had been rated as "2 Crowns" by the Tourist Board: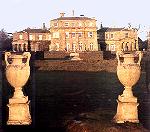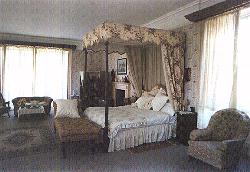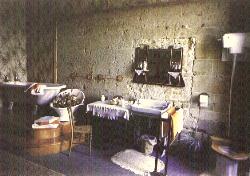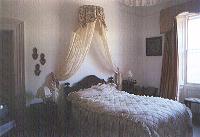 Here is a Tourist Board "3 Crown" rated bed and breakfast establishment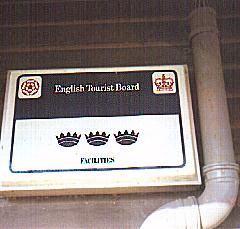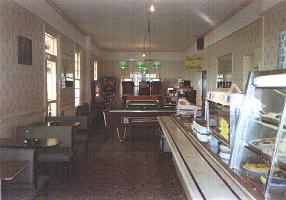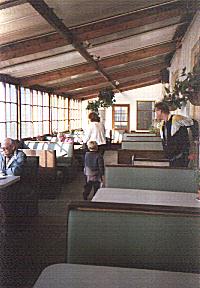 An undercount of accesses since April 1997.
Text only viewing isn't counted!