Hammerwood has concerts too!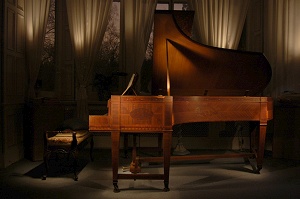 Photo: Thomas Pinnegar 2008
Click here for details
---
Here David Pinnegar explains why preserving a historic house is relevant to our generation and our civilisation:

---
The people here
Click here for the pre-1792 history
Click here for the story of the people who lived here
Click here for what the servants said
Click here for what the ghosts say!
---
---
---
If you volunteer to help here as a gap student, you never know what you might see . . .

Cheryl Cole - The Flood on MUZU.
Ken Russell Season Promo

Competition winning films are shot at Hammerwood! Knife Edge used an exterior elsewhere and Hammerwood for the inside:

---
Click here for comprehensive UK tourism links
---
We urge all people interested in conservation to support SPAB - the Society for the Protection of Ancient Buildings and if you have moved into an old house, the SPAB courses help people to make the right conservation decisions which help to both maintain the historic value of a house as well as possibly avoiding very expensive mistakes.
---
Further reading here. . .
Texts of:

History repeats itself over a long enough period!
"A nation without a past has no future".
"Reading the writing on the wall: The challenge of the Tree of Life":
expalnation of the Parthenon Frieze, The Elgin Marbles and the modern world
(in which science, history and belief converge), David Pinnegar BSc ARCS
and here soon further research about Latrobe and his extraordinary family, the Greek mythological inspiration, Apollo, the Moravians and the Latrobe family inspiration Count Zinzendorf
---

Visitors book, enquiries and comments
Or you could write to us at Fax +44 1342 850864 or telephone +44 1342 850594 (01342 850594 within UK) or post to Hammerwood Park East Grinstead Sussex, RH19 3QE England
Click here for English heritage preservation news

and Here for The Times report of what English Heritage's Chairman Sir Jocelyn Stevens has to say about the Lottery
Hammerwood is Greek Revival but displays some of the monumentality of Egyptian temples but is a better construction!
Don't go away without having taken the tour above and looked at the other houses!
Afterwards however, there are tourist information and travel resources to distract you!